I've heard this question often from people working from home who are not used to it, from people who did work from home but are finding their business is down, and others. One of my friends has said before "Why do I want a long vacation; that's like escaping the life I've built, and I love my life. " This blog is about ways to reflect on why you may be stir crazy and improving the parts of your life you've built, if there are parts you're not loving.
Stir Crazy – the actual definition
To become acutely anxious, restless, irritable, irrational, and/or depressed from remaining for too long in an unstimulating, confined, and/or isolated environment.

Source — https://idioms.thefreedictionary.com
Figure out What's Making You Feel Like This
I've talked in my COVID-19 video series of videos lately about "reflection."  Not everyone knows how to quiet the mind enough to create the reflection time. But if you don't look at what's making you feel "anxious, restless, irritable, irrational," how will you take control to change that?
So I'd like to share some resources which either I've found helpful or clients have shared. One or more will help with where to start. Some of us need a framework to get us started thinking and reflecting. I'm staying away from recommending longer books and starting with simple, basic, rituals you can easily work into your day. You could also take a day or a 1/2 day off from work and create a lengthy time of reflection; it depends on your personal style.
Values
What is important to your core? What is most important in life? What do you stand for?  What's important to you and are you doing that maybe not daily but weekly at least? Values show up in daily life when we make choices about how to use our time. What changes do you  see yourself making next week, next month. You might be going stir crazy because if you compare what you value, and your time isn't used that way, you are frustrated. You may not know how to get out of where you are and move towards what you want.
Strengths
What are your strengths?  If you're feeling today like you don't have any/many, try this question instead: What compliments do you hear from friends, colleagues, family or in performance reviews at work?  If you can't think of any, ask someone who knows you fairly well.
Whether you believe the answers or not yet, write down what you are told. This will become believable at some point. [If you want an online assessment, try the VIA Character Strengths one, from free to a charge.]
Your strengths are important, because if you don't know what they are, then it's likely you're not feeling self-worth, from the inside out. If you're looking to others for validation, that's a clue to build your self esteem and/or confidence. We are happiest when we are using our strengths and know what they are. Think of how you feel when someone reaches out to you for advice on a difficult situation, because your wisdom and way of thinking has been calming and useful to someone.
Morning and/or evening time with meditation
The biggest argument I hear about meditation? "It's too long." "I can't sit still."
Is it possible that you don't want to sit still and be with your thoughts and feelings, that it is too difficult, fearful, sad, or some other emotion?
Because these suggestions have varied lengths of meditation. And it's a wonderful practice, too, to stop in the middle of the day and see if you need a 1 minute meditation or a 4 minute one to recenter yourself.
Oprah & Deepak 21 day meditation experience. 
Website or app for Tara Brach's guided meditations, which last from 1-25 minutes. Choose your length of time and work up to longer ones.
Morning time with "thought for today"
How does this help with stir crazy? Similar to meditation, reading thoughtful, inspiring people's work should cause you to reflect on some aspect of your life and decide if you're happy with it.
I read a page a day from each of 3 books because they reflections are so useful that I wanted to keep all of them. Sometimes I get something from all three and other times, it's just one book that gives me something to reflect on relative to my life. It's a quiet way to start your day, even if you need to read in bed before kids awake! Pema Chodron is next on my list.
Spiritual
This could be through prayer, meditation, reading of spiritual books, spiritual classes, defining what you believe, getting out and into nature, attending virtual church services. I read something in the "Each Day" book above which says that if you are unsettled spiritually, in your soul, then stir crazy is probably common for you. If you don't know what you believe, that's a missing value, a missing part of the calm you can drawn on each day. It's trustingyourself to find out what that is.
Podcasts
My latest favorite is Brene Brown's "Unlocking Us."  "Conversations that unlock the deeply human part of who we are, so that we can live, love, parent, and lead with more courage and heart." These episodes make me "unlock" something in my thinking or feeling to reflect on. "Permission to Feel" is a book whose author was on the show; sounds great and it's on preorder for August. 
The "On Being" project, with Krista Tippett is thought-provoking. Two of the recent episodes are titled: "How can I find my footing in a shifting world," and "How to be grateful in every moment (but not for everything).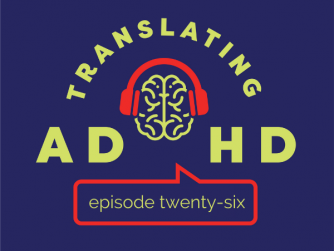 And if you're reflecting on your ADHD and how it shows up for you, need validation or strategies, for self awareness, Translating ADHD is spot on. It's co hosted by one of my coaching instructors, I'm excited to say. They deal with what's uniquely ADHD focused, not only practical strategies but emotional ones, like communications, boundaries, managing mental and emotional energy …. or overload. If you have ADHD, it's an important piece to reflect on because it impacts each aspect of your life.  [You can also read more about my ADHD workbook here.] And a PS for people who need company to handle certain tasks, podcasts can give you just that energy while you work.
Settle into the Emotions
Many people grew up, for various reasons, with the belief that emotions are expressed behind closed doors, not openly with family, or were suppressed somehow (the culture, addictions which mask the emotions,etc.)
These methods above are ways to help you get inside your heart, soul, mind…. wherever you want to start.
We have an opportunity with the silence and the time we may not typically create for ourselves. Or we only create time on special weekends to a retreat center or a vacation where we shut off electronics and just "be." Why not introduce those feelings of shutting down, slowing down and reflection into each week (or day)? Instead of waiting …
In my personal and professional experience, and perhaps in  yours, I have found life is a process of becoming who we want to be. We peel away the layers and discover new things about ourselves. We might see a counselor to dig deeper and put events from our past into a positive perspective, understand them better, forgive ourselves or forgive others when they did the best they knew how.
What an opportunity we have now.
Take it.
Make up your own ways to ask yourself what brings you joy, what you're made of, what you're good at, what you want to do next. Use journals, color while you think, talk to friends or professionals. Reach out for support if you need it.
Sue@CoachSueWest.com
603.765.9267
More inspiration: